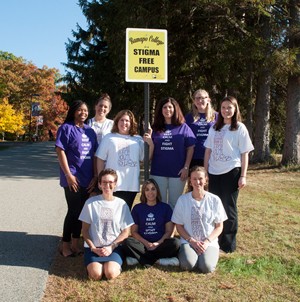 Educate:
What is Stigma?
-A mark of disgrace associated with a particular circumstance, quality, or person. A set of negative and often unfair beliefs that a society or group of people have about something.
-Understand the facts about Mental Illness.
Take the Pledge:
-Pledge to be Stigma Free
-Promote public awareness, create conversations, and work towards overcoming stigmas, stereotyping, discrimination, and removing any barriers to recovery.
-Join in our mission to enable and encourage those with mental illness to Stand Up, Speak Out, and Get Help.
Take Action:
-Reach out to your local Mayor or College Administrator and request that your town or college campus become Stigma Free.
-For more information on the Stigma Free Campaign email us at codeyfund@gmail.com
Stigma Free Campaign
Stigma Free Towns

Township of Irvington
Town of Newton
Township of Pequannock
West Caldwell
West Orange
Maplewood
Montclair
Bloomfield
Roseland
Livingston
Woodbridge
Boonton 
Denville
East Hanover
Hanover
Jefferson
Madison
Washington Twp
Springfield
Boonton Twp
Butler
Chatham Boro
Dover
Long Hill
Mendham Borough
Morris Plains
Morristown
Morris Twp
Mountain Lakes
Parsippany
Rockaway
Roxbury

Stigma Free Campuses

Caldwell University
Montclair State University
College of St. Elizabeth
Steven's Institute of Technology
Ramapo College
Drew University
Fairleigh Dickinson University
Felician University
Seton Hall University